I just saw this meme on "The Happy
Wonderer
" and I'm laughing because I posted a HUGE LONG post last night about scads of treasures I recently found. But, I'll focus on one.
Recently I've been putting more vintage items into the house. Typically I'm a wood lover, and really love the primitive look. However, I discovered you can definitely mix and match styles to suit.
So, this is our dining table.... it's not the second hand find... the items on it are the finds....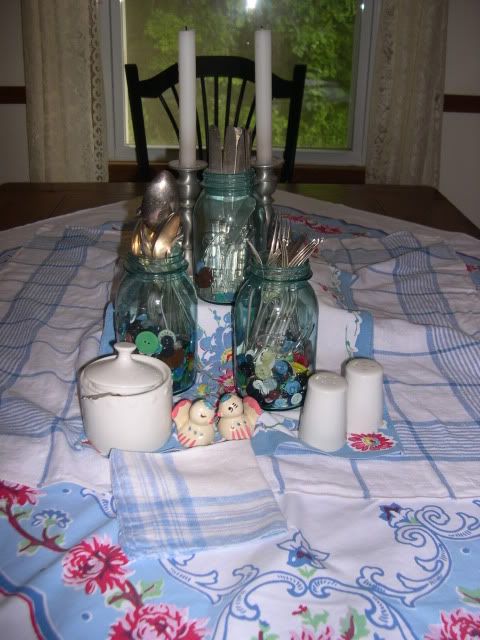 Okay, so second hand use. The table cloth is vintage, found while
junkin
' with Mama Magpie. On top is another smaller cloth and then under the tea towel I have a tea chest to give it some height. The candle sticks aren't vintage. But, the blue ball jars are vintage. Inside are vintage buttons to add some color (I played with those when I was just a wee little thing), then the silverware is my
MIL's
, given to me years ago, and now finally put out for use. Isn't it pretty? I love the play of blues and pinks.
These sweet little love birds are old salt and pepper shakers. I can't use them as there are no plugs in the bottom, but the color is so cute and I LOVE birds. (I have 7 living in the corner of our family room, on eggs, but that's another post.)
I am enjoying finding old/vintage things and
re-purposing
or reusing them. So much fun. Please stop over at
A Picture

is worth 1,000 words
for more Second Time Around Tuesday finds.
Blessings, Kim