Nope, I'm not reading Peter Pan. I've just completed 4 of 6 memory boxes which will be listed for sale in the "Art & Soul" art and craft show two days after Thanksgiving.
For months I've been stockpiling all sorts of things: buttons, marbles, postcards, folios, ribbons, thimbles, antique quilt blocks, sewing needle papers, window frames and much much more. I even managed to snag that gorgeous vintage enamel ware table my mother-in-law wanted to leave behind in the old house. Thank you Sue! That table became not only my work space but also "collection central" as I hit garage sales, auctions and the occasional antique store.
Last Friday I began to create again. It felt wonderful. And, I owe a HUGE debt of gratitude to my Friday co-op ladies who are covering a month of Fridays for me so that I can finish prepping for this show... my first (and only?) show.
I thought it might be fun to show at least one more of the collections I am working on. Before I've shown my "simple faith" note cards, and even my vintage folio cards. This next set of creations begins with vintage cigar boxes, vintage post cards and reproductions of period photos... plus a bit of ribbon, buttons, bling and then a sprinkle of fairy dust. I was able to buy the boxes from Mama Magpie and looked at them for weeks before I realized that they were just right to hold memories and mementos of a special day... cards, invites, photos, a faded flower, flattened balloon, or maybe a few journal notes.
Okay... here goes.
This is the grouping of the boxes I've completed so far. I love the boxes they're resting on... boxes used by Dear's father and grandfathers over the years. That's his dad's old childhood rocker peeking from behind the wooden boxes.
This is my only wedding memory box so far. It's not exactly traditional colors... the box is gorgeous pumpkin orange and dark navy... but the advertising piece on front worked so well. Not everything has to be traditional.

Inside you find a lovely photo of a newly wedded couple. Judging by the flowers and her dress I'd guess it was the late 20s or early 30s when this was taken. Note the sweet little tag where you can add the date, and even a few thoughts, or your names... the inside edges are covered in words that add to the sweet loving feeling you get as you view this lovely photo.
This is MMH's favorite box. She loves the pastel buttons on the side. I'll admit I thought of her as I created this box... it's a little bit playful with the brightly colored ricrac and the vintage buttons, but still quite sweet with the vintage birthday post card.
And inside of course the birthday fairy helping your birthday wishes to come true. That or adding a bit of magic to make this memories stay so sweet. I loved that this cigar box had "favorita" on the inside lid and around three of the sides outside... your favorite memories of a special day!
I love birds and so this was an obvious pick for me at least!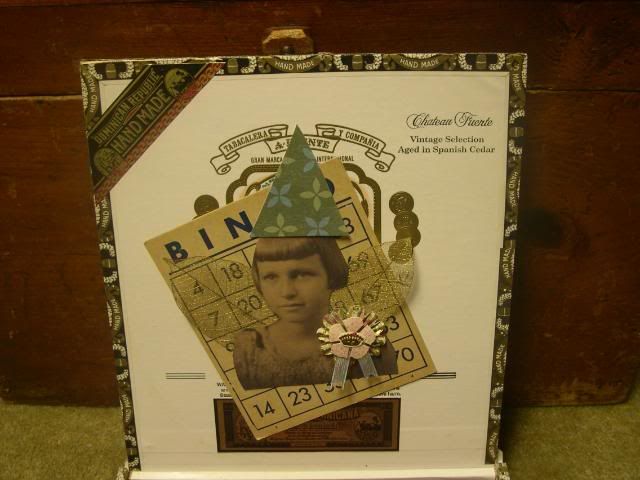 Inside is another birthday fairy... and of course...
She's sprinkled her fairy dust to keep your magical memories magically alive!
And finally, the box that started the whole idea... good things come in little packages!
And this is what awaits you as you open this box.
So, I hope you enjoyed this glimpse into my "studio" or to be more precise... my table by the fish tank in the basement!
Blessings, Kim