Okay, for those who know me REALLY well you know that I am getting quite hooked on things vintage, specifically, Shiny Brite Christmas ornaments, table cloths from the 40s and 50s, vintage kitchen/tea towels, old silver, post cards from the EARLY 1900s, photo folders, and other things as they intrigue me. Currently I have a desire to find some McCoy pottery... but I'm picky, and cheap. We'll see.
So, went garage saling for two weekends and hit the local shop as well. I found some fun things. Take a peek.. this past weekend was the BEST and I am so happy with what I found.
The hankies are mine... either from childhood or from Gram. But, the silver pieces were a dollar each. Well, not the cracker server. But isn't it cute? Can you see it with Ritz? Or pieces to sell at the art show?
The broach was all I found at this sale I went to WAY out in the country... but for only $2 I was fairly pleased. Can't figure if it will end up as art, or on my coat collar. What do you think?
The games pieces I have looked at while shopping at the shop nearby for several months. The price came WAY down and I was sold. They will definitely become altered art projects of some sort. The red Bingo cards will be great wall hanging backgrounds for Christmas and Valentine's Day.
Next are things from this weekend, some free, some cheap at sales and two from the local shop. (Yes, I went again. I wanted to look at a $12.50 "Tom Thumb" typewriter for an art project. Glad I looked... it won't work, but the one for 50 cents from the garage sale will work. YEAH!)
The first of three boxes of stuff. It had treasures in it. It also had "treasures" in it. Ah well...
Shiny brites anyone? Each of the tissue wrapped pieces is an ornament. I've not even unwrapped them all yet. I want to wait till I can sit and enjoy what I find. Or laugh. Whichever.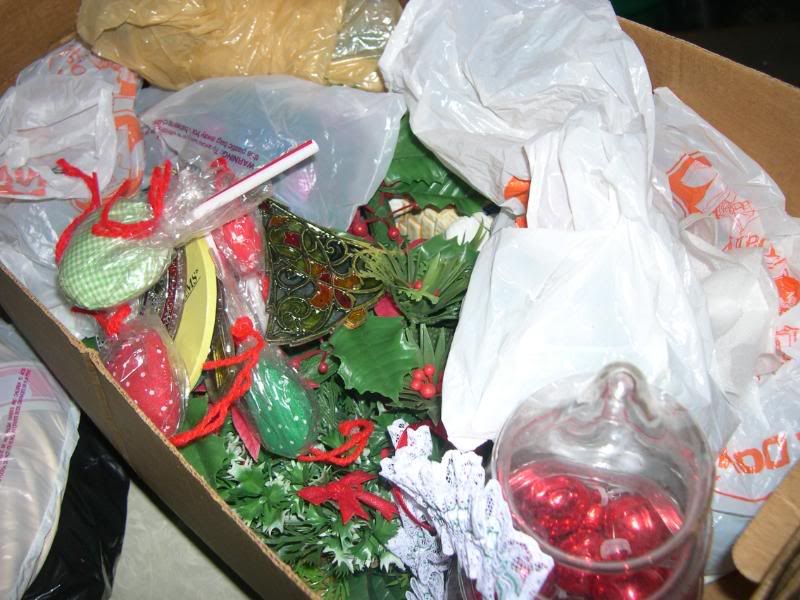 These are some of the "treasures". I guess they'll just go right into my garage sale. Or to Etsy.
See those bent spoons in the front? Joe of Joe and Joella made two of them for me, and gave me one he had previously made. You drill a hole in the bowl of the spoon, hang them from they wall, and voila, a vintage hanger. Tea towel and vintage napkins just 10 cents each. Ditto for the wheelbarrow and cow bell.
What do you think of the gorgeous lantern for the picnic table? Someone was trying to tell me how to get it shiny again. NOT! I LOVE the patina, age, whatever.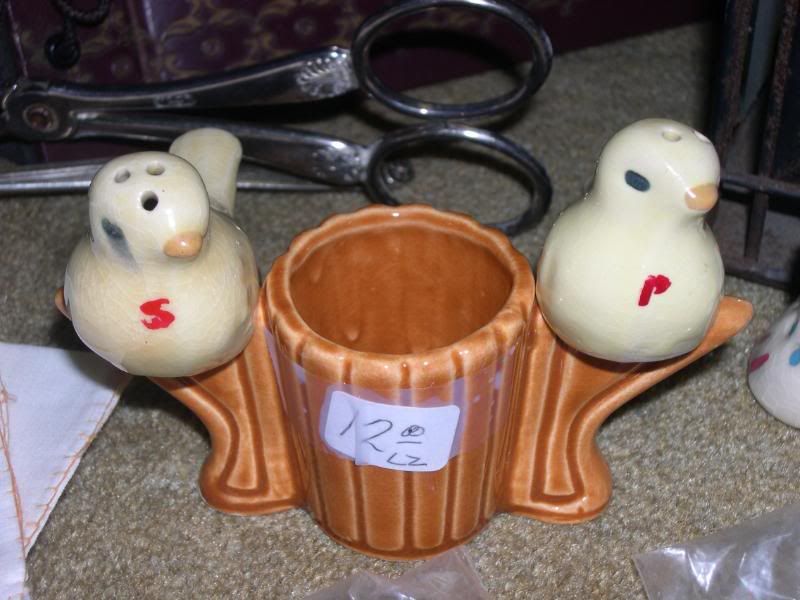 I know I spent a LOT on these, but they are PERFECT in my new yellow kitchen. So sweet sitting up by the sink.
And these little lovebirds look fab on the dining table. They're right next to blue ball jars full of buttons and vintage silver flatware. Cute!
These cloths should have cost a LOT more. But SCORE! Just $1 a piece. One will replace what's been my favorite on the table so I can cut that one up to make curtains for the kitchen.
This is for April. I called and asked. Perfect color for her vintage kitchen.
She might want these also. We'll see... What do you think? If not her then it's the garage sale or Etsy.
And a few more boxes of ornaments.Not Shiny Brites... so they're up for grabs. Any takers?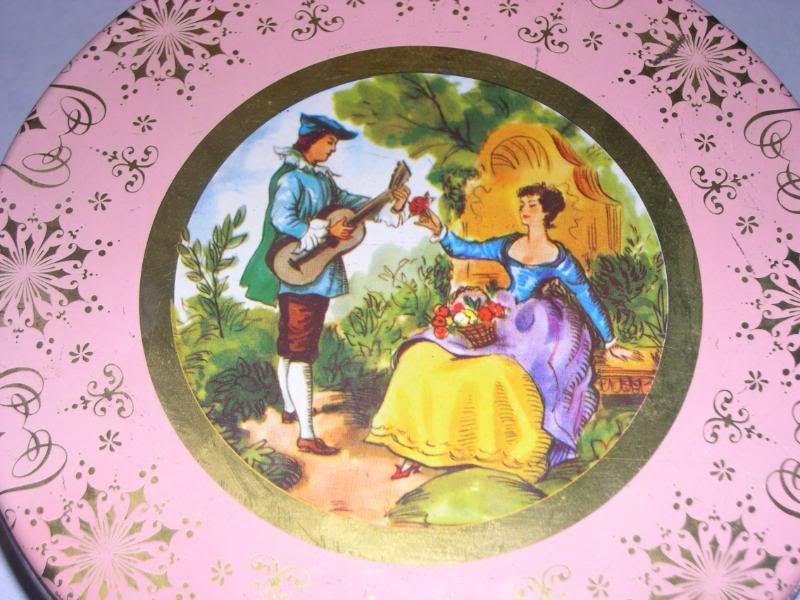 This is the top of the bottom tin from the picture just above this one. Isn't it sweet? I love the colors.
And finally, what started it all. I needed a typewriter. I was up for hours in the night for an idea for an altered art project.
This is the inside. It's perfect. Even still works. If I get brave enough to make this project I'll show you all here.
Okay, that's enough photos for now. More later...
Shalom,
Kim