Okay, I'll bravely step out and say it:
I've been invited to participate in a local art show. This is the first year for this show and it will feature women from the community. It's called "Art & Soul" because it began as a venue for local Christian women to share their art.
I've been creating for a bit over a year now and am enjyoing it. Opened an Etsy shop a while back "All That Glitters Paper" (allthatglitterspaper) but have yet to sell more than one item, and that was a special order for my mom. (Thanks Mom!)
I have such items as notecard sets, vintage style greeting cards, wall hangings and the like. I just finished my first "3D" item for a friend's birthday and look forward to more of that... collage is just too fun!
Part of the invitation was for us to help create the signage for the event. Each artist was invited to choose a letter from the title and create that letter in an 8x11 format. Then all the letters will be placed together to make up the sign. My "signature style" is to use vintage images, ribbons, buttons and "angels" (please understand that I am in NO WAY trying to show what a true angel looks like... these are merely whimsical creations). I ended up with the letter "U" and this is what I finally turned in today (the last day we could do this):
Anyway, I also had to find a name for my business, and since "All that Glitters" was just not cutting it I worked on the name for a while and came up with "Whimsy and The Word" because I like to use whimsical ideas like my angels, but it's also important to me that my faith shows in my work, hence "The Word" as in "The Bible"... but it's a play on words, because I am a very wordy person and I just like to use words as well. We'll see.... hopefully it will fly.
Below are two projects I completed, and hope to do more versions of the same type.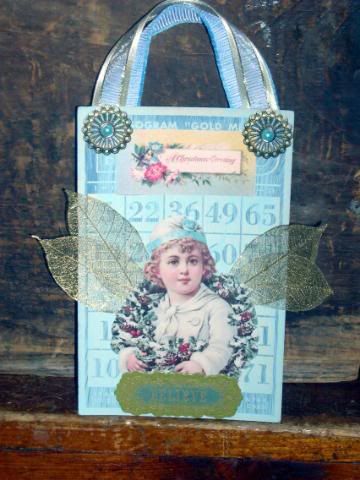 Sorry the picture is a bit blurry... I'm still working on lighting for the pictures. This one is "Blue Christmas ~ Believe."
I love taking nature photos and have found an outlet to use these photos... handcrafted totes with one of my nature shots, scripture quote, vintage and new ribbon and flowers and vintage buttons. I was so excited when I finished this bag. Hopefully others will enjoy it also.
Well, that's it for now. Stay tuned for the curtain post... where I turn a vintage table cloth into curtains... sure was hard to make that first cut!
Blessings, Kim