I moved back to blogspot because it's easier to use than Wordpress. Sadly though, I'm still delinquent in my posting because the pictures... well, I have to use an online photo service and it just takes so long and I'm so far behind. Well, I'm sure you really aren't interested in my whining, so I'll move on.
My in-laws recently, as in today, closed on a condo. They have lived in the same house for 40 years and are making this HUGE move... about 3 miles away. But what is huge is that they are drastically downsizing. Dear and the girls and I, and Dear's brother and his wife have been helping them to go through, sort, throw out, donate, and pass on items to those of us with a desire for more stuff.
Yep, I know. Just spent nine months stock piling stuff to sell in our garage sale and now I am beginning to gather things again. But who could pass on items such an old fashioned scale... wood base, brass fittings and beautifully maintained weights? Or, look at this:
Okay, the table, not the laundry. Seriously... do you see that lovely enamel top table? I've been pricing these for a year in antique malls and this one has just "fallen in my lap." I was so excited I started jumping up and down when I saw it. Now, mind you, I have been visiting this house for perhaps 28 years and I just then realized what kind of table it was. Go figure.
Of course, there was also the famous "pink thing" that I laughed at each time I saw it. Take a look: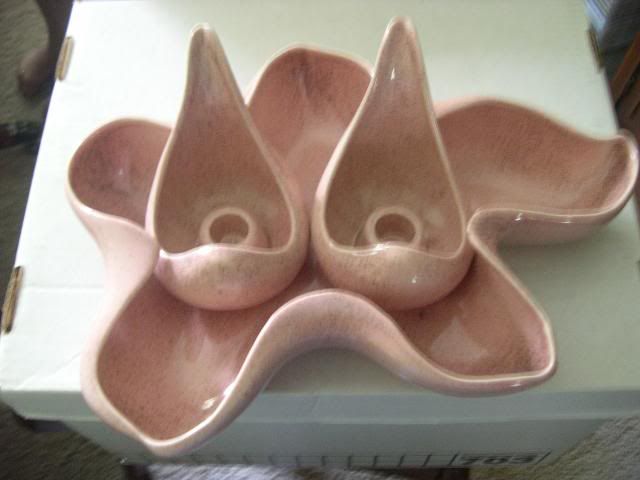 I dearly love my MIL... she is an incredible woman and I hope she forgives me for posting this picture of the pink thing. It just really makes me laugh. Those things inside the thing are candle stick holders. Ideas anyone? The pink thing left the house. I'll probably find out it was valuable and I could have had my MIL sell it and pay for their condo, but we just couldn't picture using them, or anyone else using them for that matter.
We're looking forward to the end of this move in July and seeing them all happy and settled in their lovely new home. We are very excited and hope they are also. I know we pushed "a bit" to have them move, but it's only because we love them and aren't right there in their home town to help out and want them safe and sound.
Okay... on to the next post.
Blessings, Kim