It appears that all the pieces are sold... I'll post again right here if that changes. Thanks!
I was making my usual rounds of garage sales this summer when I came upon a box of old/vintage/antique(?) quilt pieces/scraps. I grabbed them up for a great price and had a great idea for them. I finished two projects and was pretty tired of the whole thing.
So, now I have a HUGE box of quilt pieces and no time to do much with them for this year's show and not sure I want to mess with them for next year's show. First dibs go to "
Makin' Projiks
" (Queen of Quilts!), however if she doesn't want them and none of you want them I'll just post them to my ETSY shop... probably in lots. Not sure... that's a LOT of photos to post! (Unless I get a brainstorm between now and then that is...)
Here goes:
This is group one... obviously all the same shape and meant for a quilt... I just don't know the pattern.
This is group two:
The center piece would be the basket of flowers. It's really lovely and in good condition. It's just SOOOO big! That's a full size couch it's spread out on and you can see how much room it takes to display.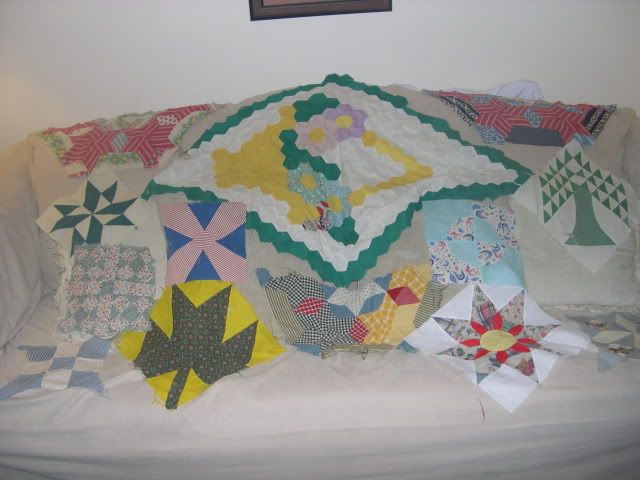 The little piece in the lower right corner is gorgeous. The petal quilting has a 3D effect with the red petals having a "pucker" to them... so cute!
Here's the basket in it's entirety...
I see a lot of mint green and vintage pink colors here. Framed these would look lovely on a wall. I just have neither the time nor the money... unless you wanted to special order a piece... I have a few old chippy window frames, old sewing needle books/papers, etc. It could be very nice. But unless I have a special order I just can't afford to do this on a whim... If you're interested just contact me or leave a comment.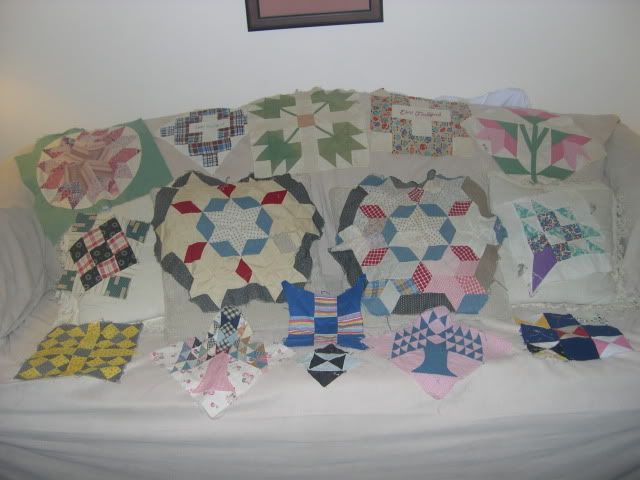 And here is the final group, group four:
A mix of colors and patterns.