This is the second in my pair from "Core of Faith." Entitled "Faithful Heart" this was inspired by readings in Isaiah and in a sermon preached on Sunday about the true, right and good fear of the Lord. Our fear of Him should inspire us to love Him even more.
This was created with a vintage bottle. When I found it the little gold heart was already firmly affixed. That was the beginning of direction for me... the heart is always at the core and as you peel back the layers you find what drives someone... "All that leads the heart to knowing" is firmly attached as a reminder... What leads our heart to knowing? The Lord alone.
This is another of my "
Fairy tales
in Glass" line... Thanks goes to
JoannA

from

Mosshill

Studios
for that sweet title. "To love and to cherish" is simply beautiful in it's sharing of a sweet and pure love. This vintage bottle is embellished with
encaustic
wax, crushed silk ribbon, bead, wire, "Cherish" brass tag, vintage picture reproductions, glitter and layers of trim... both new and vintage.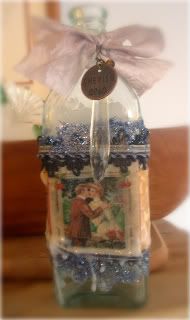 Here's another from my "Core of Faith" series. This is "King of Kings" and was inspired by the fibres used on the bottle... as I began to layer I saw the royal colors. King of Kings is a reminder to me of who alone is worthy of receiving honor and glory. Adorned with various fibres, tag, bead, wire and of course
encaustic
wax, one also notes the snippets from an old book "King o'er all things" and "Love Divine."
"Winter Wind" was fun to make and very different from most pieces. It started out as "Winter Wonderland" using the piece adorning the twine bow as the focal point.
Upon
finding the antique shoe clip however I began to see a different picture. The layers of blue satin and white eyelet, sprinkled with the merest shake of fine white glitter should give one the feel of a cold and icy winter's day where the wind is blowing the snow, the sun is catching the flakes in the air as if they are falling
diamonds
and the beautiful tree in the field is already decked out in all it's finery.
"Come with me" is my first attempt at
encaustic
on an
antique
book cover... here I have used an old journal cover from which the pages had all fallen out. Embellished with rich fabrics, vintage buckle bases, black lace, both vintage and antique buttons a snippet of "Come with me lassie" poetry and a sweet reproduction of a vintage 1900s postcard .... I hope you enjoy her as much as I do.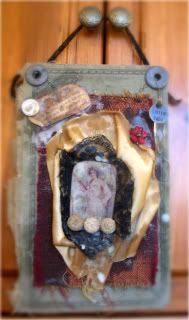 There will be more at my booth, all prices and styles. Please join us, Saturday, November 28, 10-4 at
Pourhouse
Cafe across from the main library.
Shalom, Kim